Ruffwood Brittanys and Kids Page
---
Mike & Donna Wilshire
Breeders of Brittanys and only Brittanys for over 30 years
Ruffwood Brittanys & Bird Dog Training
R.R. # 1, Cayuga, Ontario N0A 1E0
(905) 772-7230
(just one hour southwest of Toronto)
Email our Brittany kennel: ruffwood@ruffwoodbrittanys.com
One of the most frequently asked questions about our Brittany dogs: "Are Brittanys good with children?"
Ruffwood Brittanys have wonderful temperament
and "yes" they are great with kids!
Please enjoy the following photos of our daughter and others with our Brittany dogs.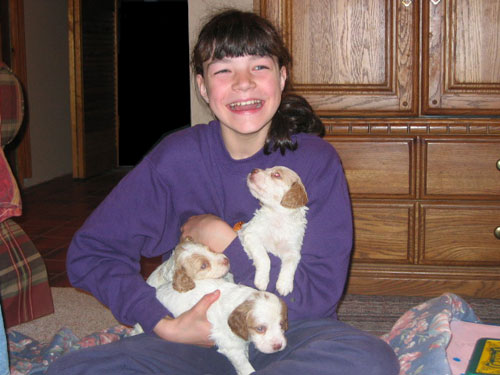 Our Brittany puppies are very socialized thanks to
our daughter Leah who looks after them.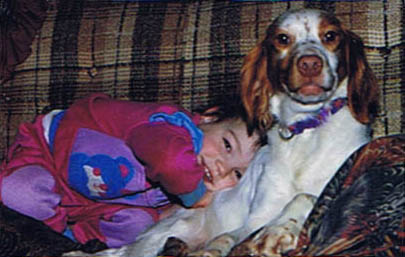 Our Brittany "Sally" with Leah on the couch.
Our Brittanys are part of the family.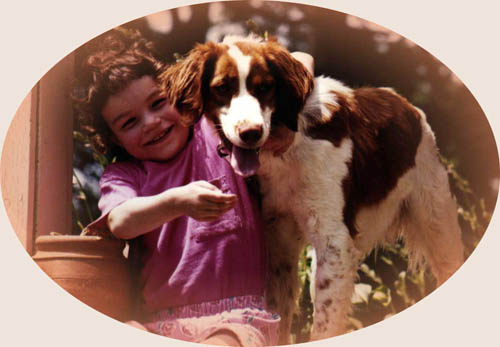 Leah playing with our Brittany, "Beany"
Ch. Ruffwood's Full of Beans, F.D.J.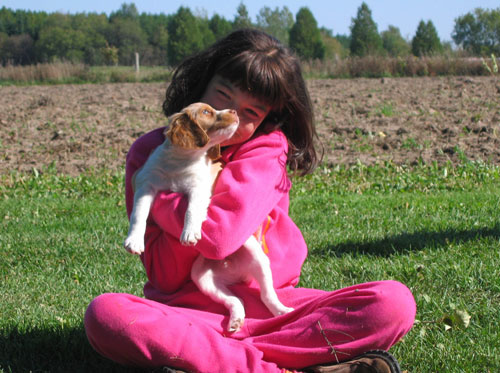 A very cute Brittany puppy being handled by Leah.
We always recommend children sit on the ground when handling Brittany puppies.
Each Brittany puppy is handled individually for socialization.
Ruffwood Brittanys and Children
| | |
| --- | --- |
| | |
| Leah with our Brittany "Ethyl" training. | Leah with our Brittany "Ethyl" |
| | |
| --- | --- |
| | |
| Brittany "Beany" being stacked by Leah at Michigan Field Trial | Leah with the Ruffwood Brittanys stake out at a FieldTrial. |

Why is it important for Brittany puppies to interact with children?

It is important for Brittany puppies to be exposed to children for their size and their voices.
They need to have handling by all different people - men, women and children alike.

Brittany puppies also need exposure to different surfaces like grass, tiles, vinyl flooring, carpet, etc.
They need to hear all the household noises and a variety of music.
This is very important for Brittany puppies to adjust to their new homes.
Our Brittany Puppies grow up to be very well adjusted dogs.

We feed and recommend Purina Pro Plan
return to top
Back to Ruffwood Home Page ...
---
©2007-2021 Ruffwood Brittanys & Bird Dog Training. All rights reserved.
Email: Webmaster - Ruffwood Design
Webdesign by: Ruffwood Design
www.ruffwooddesign.com