Ruffwood Game Farm
Upland Game Bird Hunting in Southwestern Ontario on 150 acres of mixed terrain
HOME ~ FIELD ~ BRITTANY PUPPIES ~ MEMORIAMS ~ SHOW ~ BIRD DOG TRAINING ~ EMBROIDERY ~ BOOKS ~
KIDS ~ EMAIL RUFFWOOD BRITTANYS ~
---
Mike & Donna Wilshire
Ruffwood Game Farm
R.R. # 1, Cayuga, Ontario N0A 1E0
(905) 772-7230
(just one hour southwest of Toronto)
Email the Game Farm:
info@ruffwoodgamefarm.com
We offer hunts year round with or without a dog,
your dog or our Brittany Spaniels and guide.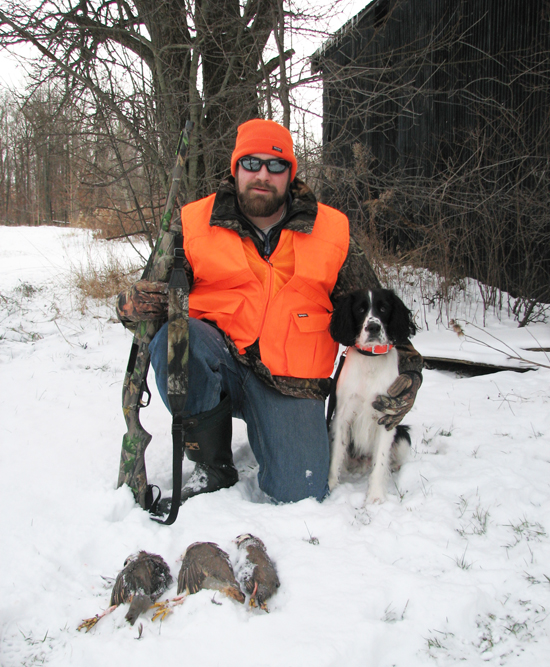 Whether you own a pointing dog or a flushing dog, and whether it is for personal hunting, field dog tests, and field trials, we make every effort to make your hunt or training session an enjoyable and challenging experience. We offer a variety of cover and we are pleased to work with you and your dog, or let you have the full experience of a game bird hunt!
Even if you don't own a hunting dog, we are pleased to offer our guiding services with one of our own personal Brittany Spaniels that are professional trained, and typically point with style and intensity.
To book a PRIVATE OR GROUP HUNT for Winter/Spring 2016
please contact Mike or Donna Wilshire
by email: info@ruffwoodgamefarm.com
or by phone 905.772.7230
BRITTANY PUPPIES will be available for Spring 2016
Please contact Mike or Donna Wilshire
by email: ruffwood@ruffwoodbrittanys.com
or by phone 905.772.7230
Some organizations we belong to:
HOME ~ FIELD ~ BRITTANY PUPPIES ~ MEMORIAMS ~ SHOW ~ BIRD DOG TRAINING ~ EMBROIDERY ~ BOOKS
~ KIDS ~ EMAIL RUFFWOOD BRITTANYS ~
---
©Ruffwood Design - 2004-2016 All Rights Reserved